One thing you learn early on as an affiliate manager is that publishers vary enormously in technical and marketing abilities and styles. They also vary massively in size from single operators to major listed companies, operating in multiple markets.
You can read some valuable insights from a variety of publishers across different markets and promotional types in this series of articles.
Publisher Spotlights
Read the series of Affiliate Spotlight articles growing in the blog.
Read the Articles
Finder.com
An interview with Tony May of Finder.com a leading comparison publisher from Australia and moving into the UK and US markets - Read the Article
Weather2Travel
An interview with industry veteran, Colin Carter of Weather2Travel - Read the article.
Curvy Fashionista
Leading plus size fashion blogger from the USA gives her views on influencers, affiliates and her online business - Read the article
Chris P King
Chris shares his story in affiliate marketing – from his days as affiliate manager for BT.com to travel and food blogger in Japan - Read the Article
Redu Group
How this UK publisher group based in NE England developed during 2020, including an acquisition, new launch and overall growth - Read the Article
Bookmark the Series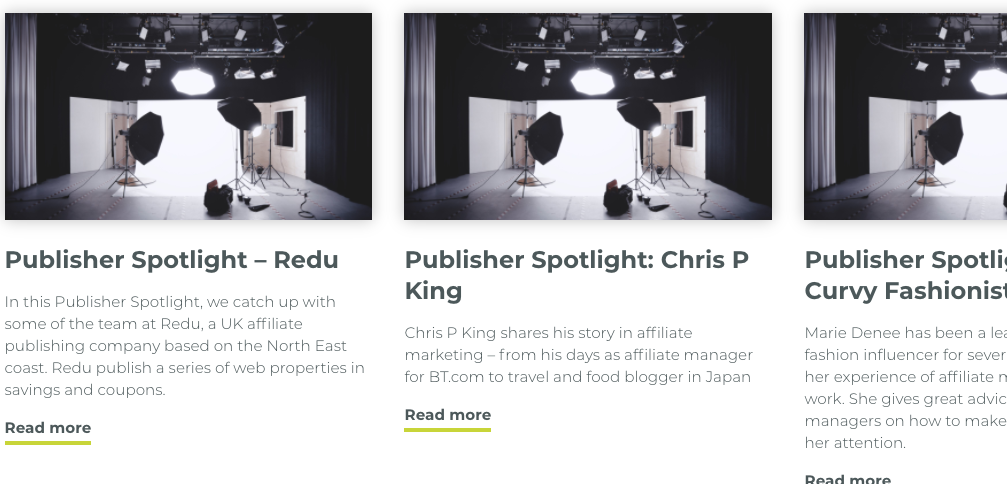 The Publisher Discovery Team